"People who often travel are fugitives"
Frenchman's Creek is another film adaptation of one of many novels written by British Gothic novelist Daphne Du Maurier.
In this Du Maurier tale an English lady during the Restoration Period named Dona St. Columb (Joan Fontaine) needs to escape her high society life. She is tired of advances from her husband's friend Lord Rockingham (Basil Rathbone) and tired of her stuffy life in London. She decides to head for her husband's country home Navron on the Cornish coast with her two young children.
Dona loves being free and out in the fresh air by the sea. The only thing she has to really care for are her children but other than them she only cares about herself and being free. At Navron there is a new servant named William. He was not there the last time Dona and her husband Harry had been there years before. Dona takes to William they share a nice rapport and understanding with each other.
In her room the night she arrives at Navron, Dona finds a jar of tobacco and a book with a seagull drawn on the front page. These things do not belong to Harry. When she questions William she finds that the servant had let his master stay in the house while it was empty. Dona is angry but not too angry at the same time once William tells her that she and his master would get along very well since they are both escaping.
One afternoon Dona decides to take a walk through a path in the woods. She comes upon a pirate ship in a small creek. She has heard of pirates in the area from a friend who lives in town. The friend told her that the pirates have been coming on land and creating a great amount of havoc and must be stopped. While looking at the ship a man comes up behind Dona covering her face and takes her aboard the ship. On the ship she meets the captain a Frenchman named Jean Benoit Aubrey. He is a nice handsome man and the two hit it off right away. The pirate and the lady begin to meet every afternoon.
The Frenchman tells Dona he is planning a raid on the coast in the coming days. Dona desperately wants to go with him and his crew for some excitement. He hesitates telling her she will be sick but she says she will not. He can see the excitement on her face and agrees for her to go. Dona tells William to let everyone know that she is very ill with a fever and to not let anyone in her room for the few days she is away with the pirates.
Dona has the time of her life being on the high seas. She wants to be part of the raid. At first she hesitates but once she puts on a pair of man's clothing she has no hesitation whatsoever all her fear has disappeared. The raid is a success the crew gets away with a ship that has been stolen by an English man from a French port.
When she arrives back at Navron Harry and Rockingham have come to the house. They are there to find the Frenchman and his crew to hang them. Dona is fearful for the Frenchman she does not want to see a man she now loves with all her heart to be captured and killed. She now sees herself in a fight for his life as well as saving William.
Frenchman's Creek was so spot on along with the novel. Of course there were some changes but they were minor and did not affect the story. Many of the lines come straight out of the novel. As I read the novel I thought of Joan Fontaine as Dona St. Columb I could picture her being Dona but to me she will always be the frightened, paranoid Second Mrs. DeWinter from Rebecca. Let me tell you she was anything but that frightened character in her first Du Maurier adaptation. I enjoyed Fontaine so much in this film she was fantastic. It was nice to see her as this confident, adventurous person after watching her time and again in Rebecca and Suspicion as those weak, paranoid women. Basil Rathbone was wonderfully wicked as the jealous Lord Rockingham. Nigel Bruce is always a bumbling panic in any film he is in and was as Lord Godolphin Dona's neighbor at Navron.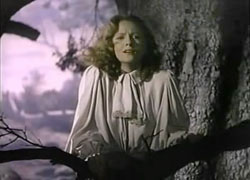 Frenchman's Creek is a very entertaining film. It was filmed in Technicolor which is really cool to see all the bright colors of the water and the clothing. The color makes the theme of escape and love all the more exciting. Let me just leave off with saying that the ending of the film is exactly how the book ends.