"I ripped them up in a desperate hope to cancel the past."
So many films have stories where a spouse cheats on the other. Usually it is the woman who has cheated and gets blackmailed. Roberto Rossellini's film Fear does deal with a cheating spouse but it has a really good twist.
Irene Wagner (Ingrid Bergman) has been cheating on her husband Albert with a man named Enrico. The affair had started when Albert had been sent to a prison camp and she was not sure if he was coming back. She had tried to break things off with Enrico but could not bring herself to do it and tells him she will call a few days later. As Irene is walking up to her door a woman named Johann Schultze comes up to her. Johann informs Irene that she had been with Enrico before and that he left her. She wants money from Irene to keep quiet. Irene will give her the money the following day. Albert is home in his office when Irene goes upstairs. He loves her but it is obvious that she has mixed emotions in that moment. Irene goes to her room where she has safe in an armoire where she has kept her letters from Enrico. She tears them up so her husband will not find them.
The following day Johann comes around the house looking for her money Irene promised her. That night Irene and Albert go to a concert. From their boxed seats Irene sees Johann come into the theater during the performance. During intermission Albert leaves to go for a smoke. Johann comes into the box flaunting her new dress she bought with the money Irene had given to her. But that money was not enough so Johann takes a ring right off of Irene finger and leaves. Irene makes Albert leave the theater early. She drives home. Albert takes her hand in the car and notices the ring is missing. Irene tells him when they get home that she had taken it to the jeweler to be cleaned.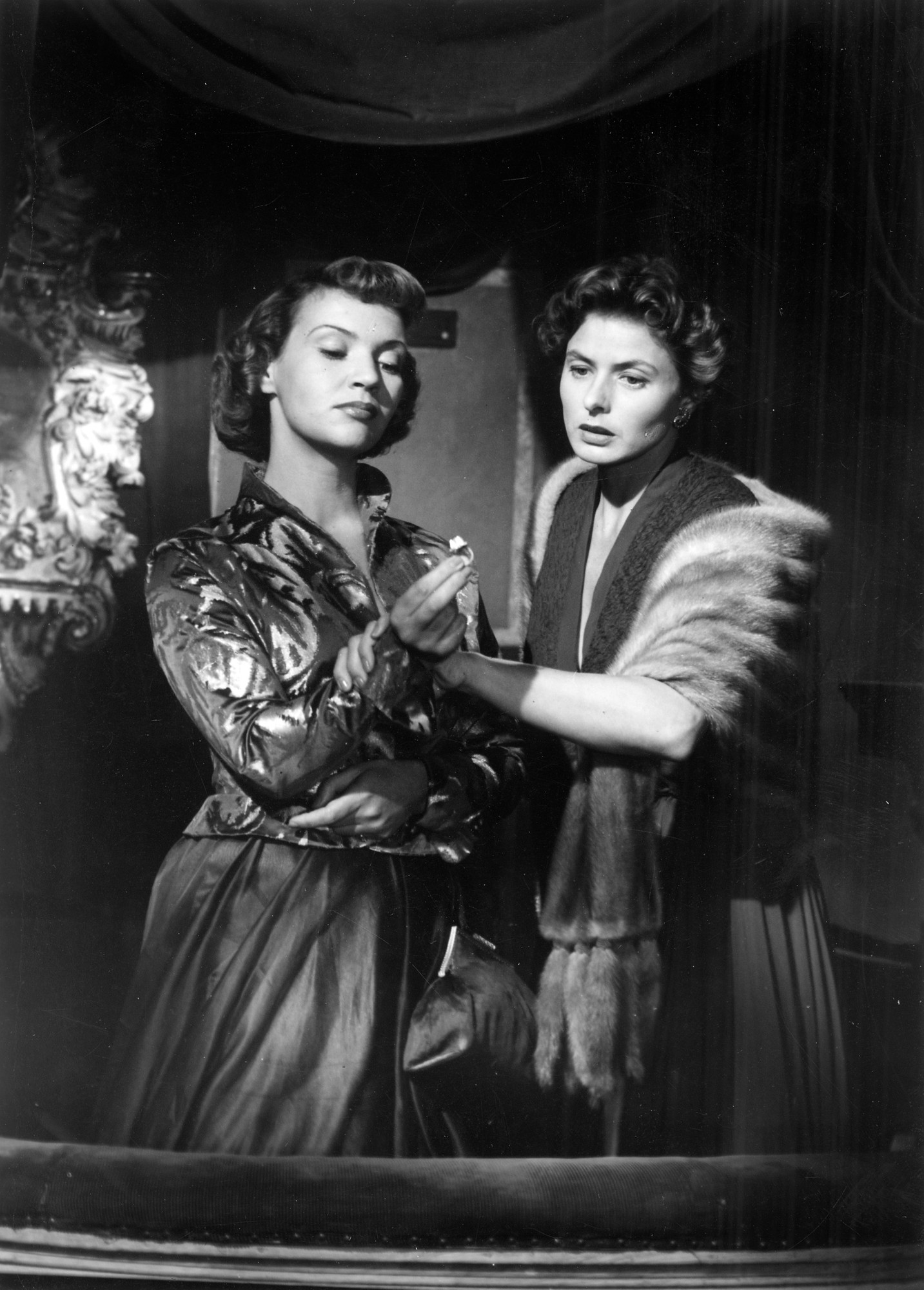 Irene goes to Enrico to find out where Johann lives so she can confront the blackmailer. Enrico is not very forthcoming with the information at first but he eventually gives in. She goes to where Johann lives and finds out from the woman's friend that Johann is not who she claims to be.
Johann is then shown walking up the sidewalk to a waiting car. In the driver's seat is Albert. He knows about Irene's affair and is trying to mess with her. He tells Johann to set up a meeting with Irene for that night at some restaurant to give her back the ring. At the meeting Irene is fed up with Johann giving her the run around and threatens her with the police. Johann immediately confesses that Albert is behind the blackmailing.
In despair over her husband's wicked game Irene drives to the pharmaceutical lab he works at and she runs. She plans on injecting herself with an experiment Albert has been working on but has painless, deadly results. Before Irene can inject herself with the deadly liquid Albert reaches her and they both apologize.
Ingrid Bergman was of course fantastic. I like her films with Roberto Rossellini because they allowed her acting to be natural and not overdramatic like it was in Hollywood (well, to me anyway). You can see all of the character's emotions just on Bergman's face and in her body language. Those are just two of the aspects I adore about Bergman and her acting. You can tell she is totally immersed in her roles just by her facial expressions and body language.
Fear
was really good. The twist was awesome with Albert behind the blackmailing of Irene. The twist made the story more interesting and made me more invested in seeing the outcome. Robert Rossellini's direction was excellent. According to my research his direction is a mix of Hitchcock and German Expressionism. I would say it is a bid more like Hitchcock's direction than German Expressionism. My favorite scene was when Irene confronted Johann it was beautifully filmed and reminded me so much of a Hitchcock scene from his earlier films in the 1940s. My only complaint about
Fear
was the Italian
voice overs
. I love hearing Ingrid Bergman speak so the
voice overs
were a bummer for me. Other than the Italian
voice overs
Fear
is an excellent film and one that I definitely recommend seeing.