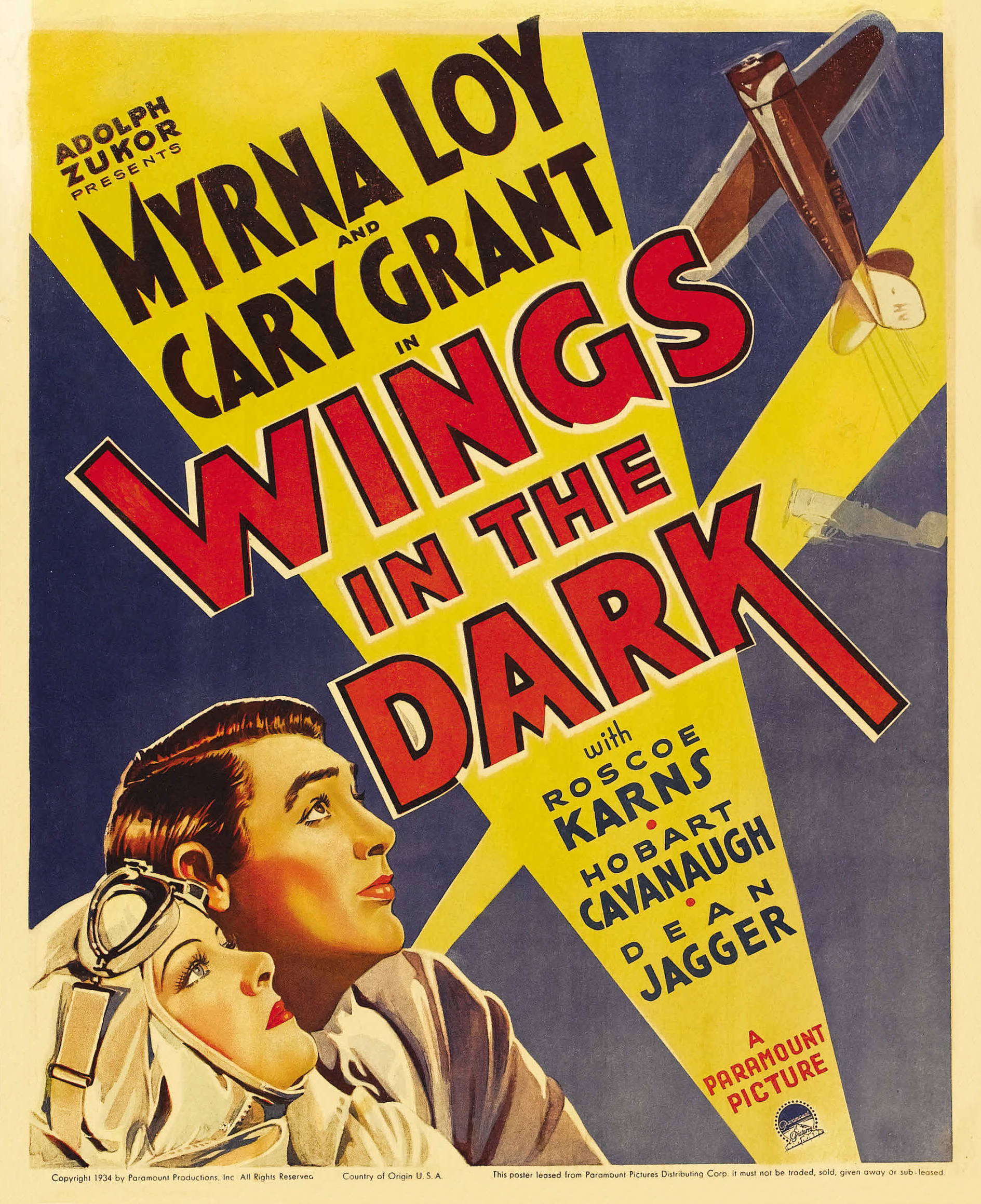 So my fascination with classic aviation films continues. Again what can be better than an aviation film starring Myrna Loy and this time Cary Grant as her leading man? Wings in the Dark is one of four aviation themed films Myrna Loy would make in the 1930s and her first film with Cary Grant.
Grant plays arrogant flyer Ken Gordon. Ken is an aeronautical engineer who has been trying new instruments that will help flyers fly blind in bad weather. Sheila Mason (Loy) is a famous stunt aviatrix; she flies stunts only because other things are closed to women. Ken lands at the field Sheila flies from. He has just successfully tested his instruments for flying blind. Sheila is very taken with him for all he has done.
Sheila's agent has come up with an idea to fly with Ken when he flies blind across the Atlantic to Paris. When the day comes for Ken to fly he is unable to get a permit because the flight is too dangerous and he also had no idea that Sheila would have been flying with him. He tells her she never would have been allowed to fly with him. After everyone has left Sheila and Ken begin to talk. She talks him into going ahead with the flight to forget about the permit and just go. Ken goes to light the gas for the stove, the fire blows back in his face and blinds him.
Ken is upset; he feels all his hard work with his instruments has come to nothing. Sheila takes on dangerous stunts to help him with money and also helps to boost his moral. Ken starts to work on his instruments again and has almost perfected it when the company who owns his plane takes the plane away from him. To top everything all off he starts to begin Sheila is just doing everything for him out of charity and pity; he does not realize she really does love him and truly wants to help him.
Sheila takes on a very dangerous flight from Moscow to New York for $10,000. Almost close to landing she comes into trouble with the weather she cannot find the landing field. The only person that can help is Ken.
Myrna Loy said in her autobiography that she did not really like working on this film. She and Cary Grant did not work too well together she said he was a little difficult to deal with. Funny because they did have good chemistry and they would go on to work very well together in The Bachelor and the Bobby- Soxer and Mr. Blandings Builds His Dream House. Cary Grant was not Cary Grant yet he's just like any other actor nothing really too special to write about. He was very handsome though and I went a little silly seeing him in an aviator's uniform. Myrna Loy was good with what she was given. You can believe her to be a spunky but sweet aviatrix. Loy made the film on loan at Paramount from MGM. At the time Loy was seeing the film's producer Arthur Hornblow so she got top billing.
Amelia Earhart is credited with being a technical consultant. Loy commented how Earhart being a consultant was just a publicity stunt there was no reason for her to be. Sheila is apparently based off the famous aviatrix.
Wings in the Dark was fun to watch because it is an early Cary Grant film. It was just fun to watch as an early aviation film. Unfortunately the film has a very B- movie feel to it which is most likely why it has been largely forgotten and is a shame considering its two stars. At this time though Cary Grant was not a major star so it does not have his leading man power behind it you can kind of feel he was just thrown into making it. The very ending is bad I totally predicted it right from the beginning but the rest of the film is good. If any other actors had played Shelia and Ken it would have been plenty alright to be forgotten about, Grant and Loy save the film from complete obscurity (hell, it is even in a pack of Cary Grant movies that no one has heard of). I say watch the film if you like both Cary Grant and Myrna Loy. Wings in the Dark is definitely worth seeing once.
Currently on Youtube so head on over ASAP before it might possibly get taken off.