I do not particularly care for western but yet again like I did with Four Faces West I had to make an exception for Wells Fargo because Joel McCrea and Francis Dee were the stars. I waited a long to see this film and finally had the chance when TCM aired it as part of their Star of Month series for Joel McCrea.
Ramsay MacKay (McCrea) works for a mail express called Wells and Fargo. Their service gets mail to post offices quicker that US Postal Service. On his way to Buffalo he meets Justine Pryor (Dee) and her family after their carriage broke down. Ramsay brings Justine and her mother while the father stays with the carriage. He tells them he is riding fast and by the time they get to Buffalo mother and daughter are both winded. While in Buffalo Justine and Ramsay come to like each other.
Justine and her family are from St. Louis. Her father is a builder and he is waiting for draughts to arrive so he can have a loan approved for a new project. Ramsay personally takes the draughts to Missouri to Mr. Pryor. Justine is surprised to see him and kisses him unexpectedly. She surprises even herself with the kiss and makes up that she is happy that her father got his draughts.
Ramsay sets up an office for Wells and Fargo in St. Louis. The business is doing well in the city. He and Justine have fallen in love and plan to be married but just as they are about to Ramsay gets an assignment to set up a route and office in San Francisco. Ramsay leaves Justine behind since California is still a rough place and promises they will be married when he returns.
Out in California Ramsay sets up a mail express as well as banking express. While telling a young prospector named Dan (Robert Cummings) that he can personally get his money to his fiancé in St. Louis two men who have not had any luck finding gold overhear. They shoot and rob Ramsay. Thankfully Ramsay is ok but the men who had given him the money do not believe that he was robbed and they go looking for their money. Ramsay pulls out a check from the company that will pay the men back their money that was stolen.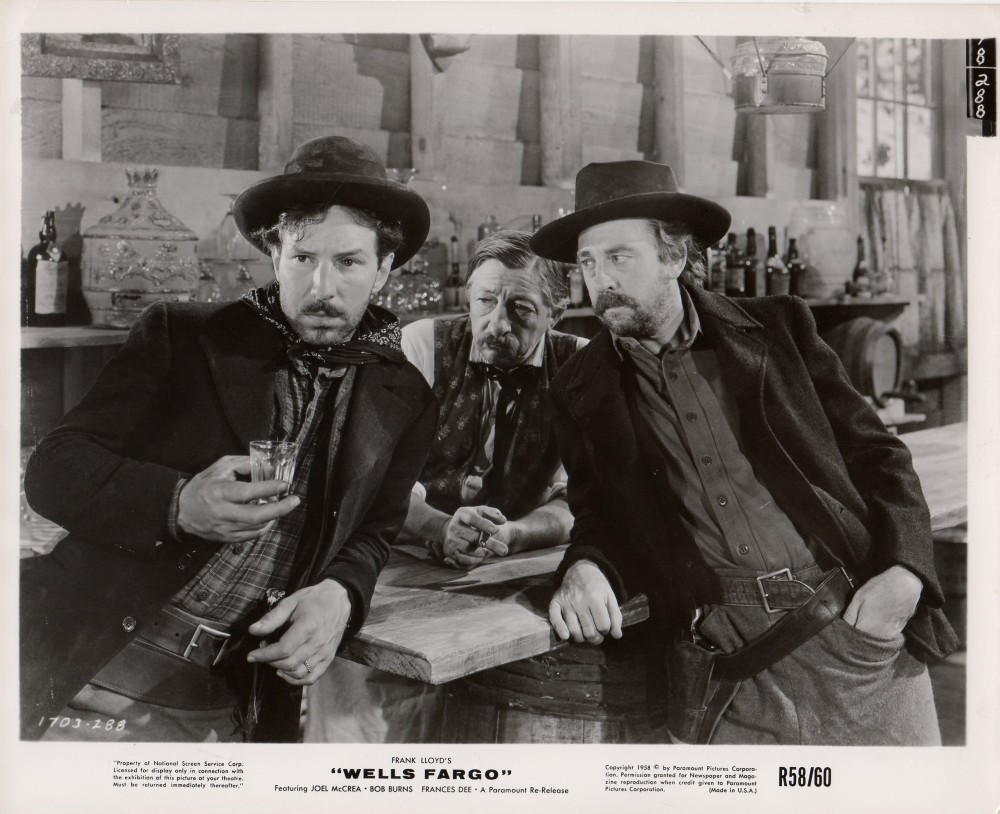 One day a ship comes in. On the ship is Dan's fiancé as well as Justine who has surprised Ramsay. They marry right away. Over the next few years Ramsay helps the company become very successful. The head of the company wants Ramsay to lay down a few stations to St. Louis from California which will take a whole year. Ramsay says he cannot he promised Justine that he would not travel for so long again. Justine seeing how her husband wants to go lets him go.
In the midst of the route planning the Civil War breaks out. The family is for the Confederates. Justine's younger brother died while fighting and the mother is devastated. She goes out to California to help her daughter. Justine is truly fed up with Ramsay being away for so long and his new plans to go out to Washington on orders from the president. She writes a letter to her friend who is a soldier for the Confederates telling him of Ramsay's plan with the money. But she cannot do that to her husband and thinking she threw the letter in the fire runs out of the room. The mother picks up the letter and sends it. In the open plains of desert Ramsay comes across the friend and some soldiers. Ramsay is traveling with his own small army to protect the money. A battle ensues and the friend is killed. Ramsay is given Justine's letter. He is deeply upset and for the next few years the couple does not speak to each other.
Eventually Ramsay and Justine make up when he goes to their daughter's seventeenth birthday party. He shows her the letter telling her to get rid of it when the truth is revealed who sent it.
Joel McCrea and Frances Dee were wonderful together. They were both such good actors themselves that they worked so well on screen with one another. As I always say about Dee in my reviews of her films I have seen she as so gorgeous and so ridiculously talented. And I will say the same as always about McCrea that he was handsome and talented. I cannot help it I just adore these two as actors and love seeing them as a pair in films. Since they were married in real life you can believe them as a married couple in the film, you can believe their characters really love each other. Knowing they were real life husband and wife adds a little bit more to the film it is sweet to watch their scenes together. (Am I weird for always thinking when I see McCrea and Dee in their films that their sons must have been incredibly good looking when they were younger? Haha)
Robert Cummings only has like three scenes in the whole film but I feel I must mention him because he was adorable. Also he was a good actor and this is one of his first films he made.
The story to Wells Fargo has its boring moments but for the most part it is a good film. Wells Fargo is a hard film to find it is not available on DVD nor is it available to view on Youtube. If TCM ever airs the film again (this was the first time the channel ever aired it) definitely catch it.