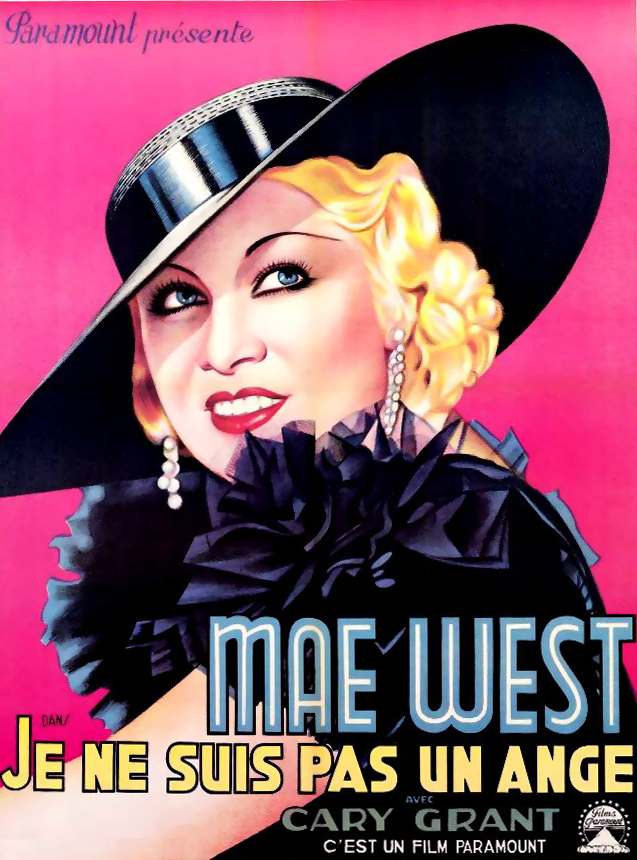 "You were wonderful tonight."
"Yeah, I'm always wonderful at night."
"Tonight, you were especially good."
"Well... When I'm good, I'm very good. But, when I'm bad...
Why can't there be more women in the world like Mae West and more films and characters like her films and characters? Oh, I know why, because West not only starred in her own films such as I'm No Angel but also wrote the story, screenplay, and all the dialogue (citing the opening credit), and because the types of women she played were "loose" and "immoral" and today would be considered the horrid wicked word "slutty". West and her film I'm No Angel I am sure are dreams of screenwriters and actresses. What female would not want to be full of confidence either sexually or in themselves in general? I would kill to have West's characters all around confidence. Plus if I had her curves on top of that confidence, dear god what I would not do! I would definitely want to be like West in I'm No Angel (minus the prostitute aspect. Nothing wrong with it I just could not do it).
West plays a circus entertainer named Tira. She riles all the male attendees with a seductive song and dance. After her performance Tira goes to the circus fortune teller. The teller predicts she will meet a tall handsome wealthy man. Tira kind of takes it seriously and kind of doesn't because as he makes his predictions she makes a few cracks.
In her dressing room Tira shows another female performer a chest she has of all the clothes and jewelry she has been given by former lovers. Tira remembers which man gave her which present. That night she gets to go on another "date" with a new man. She meets this guy in an apartment. He tells her he is a politician from Dallas. The whole "date" is a shame to make money that was set up by a guy called Slick. Slick hits the guy over the head and thinking he is dead tells Tira to get her things together because they have to skip town. Unfortunately for Slick the guy comes to and tells the police what happened, Slick is then arrested. Tira, however, is fortunate enough not to be arrested. Tira goes to the circus owner Big Bill Barton (Edward Arnold) and says that she is willing to work harder to make some money even going so far as to put her head in a lion's mouth. The whole head-in-the-lion's-mouth bit was just a joke but Big Bill sees this as an opportunity to make some serious money.
Tira's joke soon makes the circus and herself very popular and very rich. A wealthy young man named Kirk Lawrence has been to the circus quite a few times just to see Tira. His fiancée Alicia is very jealous that he is making a big deal out the circus performer. Kirk and his two friends with him go backstage to meet Tira while Alicia stays outside the dressing room. Kirk and his friends find Tira very lovely and charming. When the visitors leave the dressing room Tira hears Alicia outside the door making remarks about her. Tira takes a swig of her drink, opens the door, and spits her drink on Alicia for being a bitch.
Soon Kirk is completely ignoring Alicia and lavishly buying Tira jewelry and clothes. Alicia thinks she is going to be the bigger person by going to speak to Tira about Kirk. Tira just sees Kirk as a good time there is nothing serious between them so whatever Alicia says to her Tira does not take seriously. Alicia tries to bribe/blackmail Tira by taking her black book and threatening to publish it. Tira has enough of Alicia's crap and literally kicks her out the door.
Kirk's very rich cousin Jack Clayton (Cary Grant) tries to talk Kirk out of seeing Tira. He is mad at Kirk for seeing a circus performer and straying from Alicia who is more respectable. Jack goes to speak to Tira himself. Of course he becomes charmed and captivated by her. She flirts with him relentlessly and he does so right back.
No big surprise, Jack falls in love with Tira and wants to marry her. When Tira tells Big Bill that she wants to leave the show he gets pissed that his money maker wants to quit. Slick has been released from jail so Big Bill calls him in for a favor. Jack was to meet Tira at her apartment. Slick plays the same thing he played with the politician from Dallas when Jack walks in. Jack is upset and calls off the engagement.
Tira loves Jack but feeling jilted she decides to sue him for breach of promise. Tira is a smart cookie and defends herself. She makes Slick look like an idiot and makes her maid answer everything honestly. Jack's lawyer tries to make her look terrible but Jack does not want to contest the case he says he will give Tira whatever she wants.
In the end Jack comes up to Tira's apartment to tell her he still loves her and wants to be with her.
I'm No Angel is a really great Pre-Code. My summary in no way does it any justice, in fact I think my summary makes it sound like a silly, typical romantic drama which is absolutely not the case. There really is not a completely dramatic moment in the whole film. Mae West's comedy and confidence are in full force and non-stop. Alec Baldwin co-hosted a program on TCM with Robert Osbourne and discussed I'm No Angel. Baldwin perfectly summed up West and her performance by saying she had a "comedic cockiness." You can see her "comedic cockiness" from beginning to end. I think West's performance is a mix of cockiness and confidence. You can see the woman knew what she was doing that she had a handle on the character and was totally comfortable with whatever she wrote for herself. I'm No Angel is now one of my favorite classic films and one of my all time favorite Pre-Codes. I absolutely, one hundred percent recommend watching I'm No Angel… or any Mae West film for that matter. If you are a woman and Mae West does not inspire you to be a more confident woman than you are not watching or appreciate her performance like you should and you are missing out on a great role model.