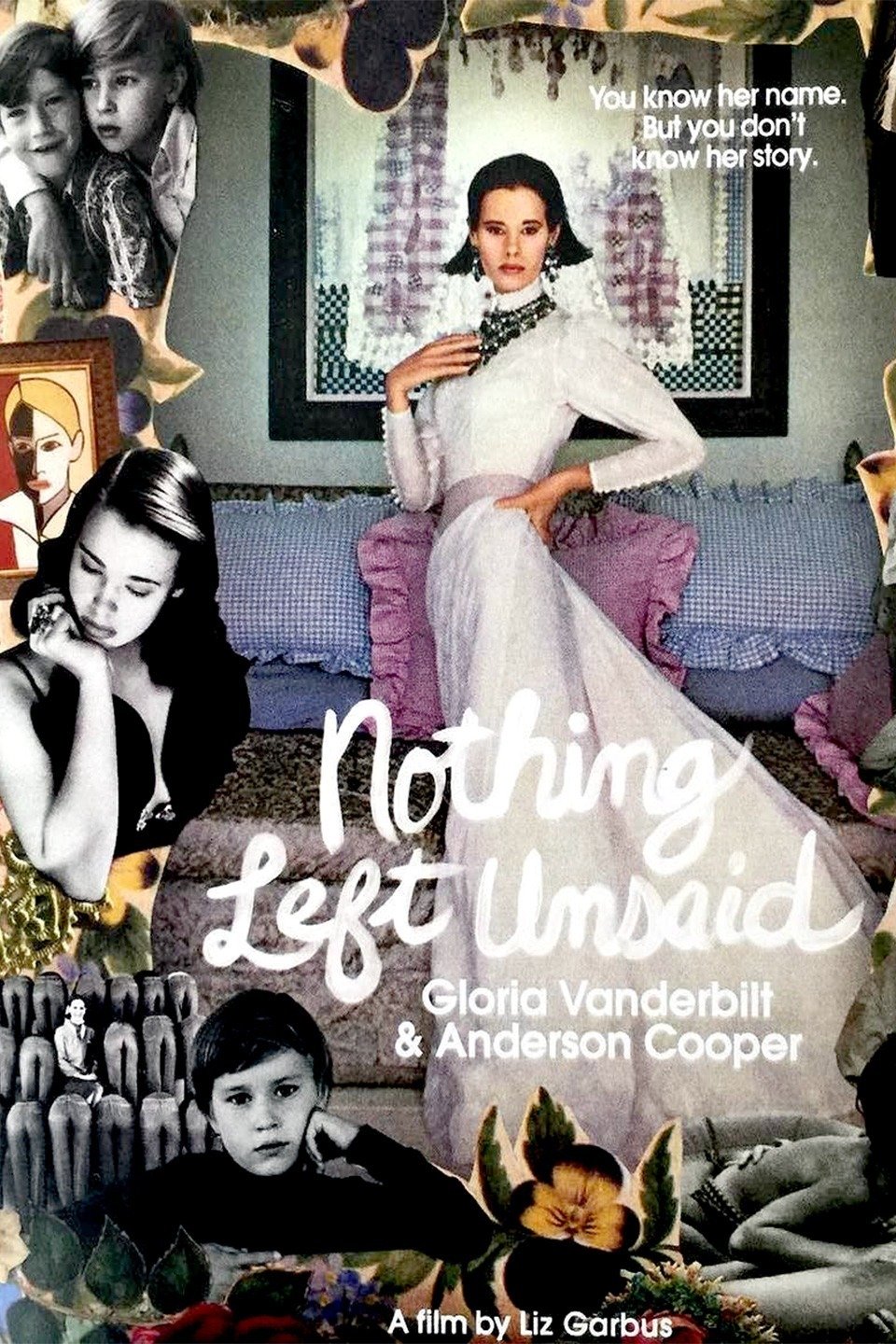 The name Vanderbilt evokes the thought of money and power and, for me, New York. It also evokes the thought of richness and a world beyond imagination. The name of Gloria Vanderbilt to most who recognize or may possibly know the name evoke the denim brand that was wildly popular in the 1970s. With wealthy people, like movie stars and musicians, we see them as untouchable and unrelateable. They get to do things normal, everyday people like you and me can only dream of. But in the documentary Nothing Left Unsaid: Gloria Vanderbilt and Anderson Cooper, director Liz Garbus takes us into the life of Gloria Vanderbilt in such a way that we connect with her and not for a moment throwing her wealth and notoriety into our common faces.
Anderson Cooper is a household name in America. He is a popular news anchor who has been reporting breaking and headlining stories for several years. Cooper is handsome and intelligent and, in a way, not as threatening as other reporters currently reporting the news. I doubt a lot of us ever knew that Cooper came from such an illustrious and wealthy family such as the Vanderbilts. His mother is Gloria Vanderbilt. I remember finding out that Cooper was Vanderbilt's son and I was surprised. It is something I never would have put together. Cooper puts his interviewing skills to use interviewing his mother in this documentary. What we get in straightforward very honest and sometimes heartwarming answers.
Vanderbilt was in 1924. Her mother was still in her teens when she was born. At only fifteen months old Vanderbilt's father died. After the father's death, the mother traveled all over the world and supposedly lived a very care free lifestyle with her twin sister. Since Gloria was blood of the Vanderbilt's her aunt Gertrude Vanderbilt Whitney felt her niece should live in the United States and not travel with her mother. This resulted in a very famous custody case in 1935.
Once she turned seventeen, Vanderbilt headed out to Hollywood where her mother lived. She was immediately enthralled in the world of acting and modeling. Vanderbilt married an older man when she was out in California much to her aunt's dismay. The marriage was abusive and eventually ended. Vanderbilt remarried in her twenties to a man who could have been her father the famous composer Leopold Stokowski and they had two sons. Again that marriage did not last and she remarried this time to director Sidney Lumet. And again this marriage ended in divorce. Vanderbilt married her last husband, and Cooper's father, Wyatt Cooper. She had a great, loving family with a man she was finally happy with. Unfortunately, Wyatt was very sick and died when Anderson was ten years old.
So much is discussed between mother and son it is hard to know what to share and how to share it here in written words. Vanderbilt shows her artwork she made over several decades and their meanings, discusses the day her son Carter committed suicide right in front of her, and other personal stories.
Usually when you see a famous/important person being interviewed they seem held back like they do not want to give anything way. This documentary different because it is a son interviewing his mother. It is obviously more intimate and Anderson Cooper knew what kinds of questions to ask so his mother would respond. But I got the feeling that Gloria Vanderbilt has nothing to hold back anymore. She is ninety-two at the time of this review, she has lived a very full life and experienced so many things throughout nine decades. From what we can see in this documentary, Vanderbilt has done nothing scandalous in her life to warrant negative attention. She has lived for her family she has made and cherishes her sons. There is no air around her. Vanderbilt comes off as a woman we would know in our normal lives, she seems very inviting and very warm.
Nothing Left Unsaid is one of the best documentaries I have ever watched. From start to finish I was invested in both Gloria Vanderbilt and Anderson Cooper. There was no discussion if wealth that was not the point. The point of this documentary was Vanderbilt and her search for true happiness and love since she really did not have that as a child. I cannot stress how much I recommend you watch Nothing Left Unsaid, everything about it is so perfect.